---
---
💪 ENDLESS HOURS OF WORKOUT & FUN!
The ULTIMATE Boxing Reflex Ball Headband is a piece of Worldwide used boxing training equipment which consists of a highly durable PU ball attached to a headband with a specially customized strengthened elastic rope. The Reflex Ball is designed to rebound off your punches and return back.
INNOVATIVE & FUN WORKOUT: Due to the efficient design of this punching reflex ball, you can experience multiple benefits including better reaction time, agility, punching speed, fight skill and hand-eye coordination.
The ULTIMATE Boxing Reflex Ball™ is the perfect alternative to video games, netflix and tv! The punching ball is adjustable and can be used by both adults and kids, so don't wait up and order this amazing accessory for your son or nephew!
PROFESSIONAL REFLEX TRAINING: The best way to improve hand-eye coordination and reflex. This boxing speedball is a good choice for increasing kids' eye-hand coordination, reflexes, agility while enjoying themselves.
This training method is used by many famous boxers such as Anthony Joshua, Vasyl Lomachenko, Floyd Mayweather, Manny Pacquiao, and various MMA fighters around the world, also many adolescents and adults too who do not get enough exercise.
FULL BODY WORKOUT: Exercising is proven to be effective and good for the body and mind. The ULTIMATE Boxing Reflex Ball™ provides physical exercises that work out a variety of muscles.
FOR ALL AGES: Whether you are a boxing enthusiast, beginner or pro, male or female, this ULTIMATE Boxing Reflex Ball is perfect for you! You don't have to be a professional boxer to use fight ball! Everyone can use it to train, have fun or release stress.
LET THE CALORIES BURN: Maybe you are accustomed to lifting weights or running on the treadmill, but fight Ball might be even better and far more compelling. The unpredictability of the rebounding ball, coupled with the intensity of your punches will really burn out your arms, chest, shoulders and upper back, perfect for calorie burning and conditioning! In addition, it's very addicting!
PRACTICE ANYTIME AND ANYWHERE: Have no motivation to workout at home? Do not want to go to the gym? No worries, this punching ball can do a big favor, it is so lightweight and portable, which means you can take it with you anywhere. Perfect for work breaks or school breaks or even for the beach and the park.
PREMIUM COMFORT DESIGN: Why do our customers rely on our ULTIMATE Boxing Reflex Ball™? Because our premium headband has multiple soft layers built for your comfort, while the fully adjustable strap is easy to fix properly and safely with no slipping danger.
SHIPPING & DELIVERY
Due to Covid19, some of our bestselling products may be experiencing shipping delays. Our most updated shipping estimates as of 24th April 2020:
We will ship your order within 1-3 Working Days after receiving your verified payment (Excluding Weekends and Public Holidays). We guarantee safe and secure checkout via PayPal | VISA | MASTERCARD. We have 24/7/365 Email Support. Please contact us if you need assistance at getsupport@fitforfuel.com 
We provide 3 shipping methods :
1. FREE International Shipping With Tracking & Insurance: 18-30 Business Days
2. First-Class Shipping With Tracking & Insurance: 12-18 Business Days
3. DHL EXPRESS Shipping: 5-10 Business Days. (Most Popular)
Every single item on fitforfuel is made to order just for you, and it will take us 1-3 business days to produce and make sure your order is everything you hoped it would be prior to shipping.
Please note: Some of our items in our catalog are so popular that the shipping times may take longer than the estimates below.
We truly believe we make some of the most amazing and unique products in the world, and we want to make sure we back that up with a risk-free ironclad 45-day guarantee.
If you don't have a positive experience for ANY reason, we will do WHATEVER it takes to make sure you are 100% satisfied with your purchase.
Buying items online can be a daunting task, so we want you to realize that there is an absolute ZERO risks in buying something and trying it out. If you don't like it, no hard feelings we'll make it right.
We have 24/7/365 Email Support. Please contact us if you need assistance. You can reach out to us at getsupport@fitforfuel.com 
---
Customer Reviews
Write a Review
Ask a Question
04/24/2020
Ronda
Singapore
Forget buying on amazon, this is the best reflex ball on the market!
Are you kidding me? I still can't believe that this product is better made than my other far more expensive boxing reflex balls! And talk about fast shipping? It arrived at my home within promptly after ordering, and it was just a standard order! Now that's fast service! I particularly like the two-tiered system of difficulty level that this product offers. The punching ball appear to be the same size and weight (very light and soft for user safety), and the headband quality is excellent (very comfortable Velcro head size adjustment). I've got a lot of experience with kicking and punching apparatus, so trust me on this one: don't waste your money on a more expensive brand. You don't always get what you pay for. Occasionally, you get lucky and pay much less for what you get. And in my opinion, is the diamond-in-the-ruff of reflex punching ball kits. THANK YOU FITFORFUEL!! I WILL BE BACK!
04/24/2020
Michelle
Singapore
Great fun at home during quarantine times like this!
I bought this on a whim as a recent additional Birthday present for my husband. I showed him the video online of how to use it, and he was hooked! The learning curve was worth it for me. SO entertaining to watch, and a fun challenge for him to continually try to conquer. In fact, I bought another one for my 10 year old son who wanted to practice too. At first he got frustrated at the ball bopping him in the face (ie: learning curve), but he quickly got the hang of it. We had to remind him that it was good practice, and that if he can't handle getting bopped in the face by a little ball- what would he do if he got punched? We have had it for a few weeks now, and they have figured out how to dodge the bounce back, and are a lot faster with their reflexes. Great for hand eye coordination! I plan on buying another set for the whole family... and probably for birthday gifts for other kids! BTW- The Tennis ball is preferred, and I do believe it is because of the weight of the ball, and the flex of the black cord. Thought I would share that info.
04/24/2020
Rachel
Singapore
Great fun to play from home!
Love this product. It was slightly hard to get the hand/eye coordination at first but after a few goes I was improving my accuracy so much and it's a great warm up. I've heard people complain that they could not stand orthodox/southpaw but the reality is you can practice in any stance. I'm now incorporating punches, knees, spinning with any stance I feel like.
04/24/2020
Andre
Singapore
Great for improving your timing
A very nifty little product and it's especially good for working on your timing besides eye-hand coordination. As every boxer knows, timing beats speed in the ring and it's hard to train it outside of sparring or working a double-end bag. Well this ball-on-a-string allows you to do just that while bumping your shins on sharp corners of the furniture in your living room. Not only do you get faster hands and a sharper eye, but your pet parrot also learns rich new vocabulary not taught in any decent household.
04/24/2020
Gerard
Singapore
Derek
Great purchase! Glad they decided to make the ball foam so when you get hit in the face(which happens a lot in the beginning) it doesn't hurt you! This product increased my hand-eye coordination and timing dramatically!
04/24/2020
Zander
Singapore
My third purchase!
This a a great, fun product. We bought one and loved it. Bought two more for our nephews and they both LOVE it. Great for hand-eye coordination.
04/24/2020
Idris
Singapore
The best boxing workout from the comfort of your home!
I used this in my apartment and my gym - after a year off the speed bag, but a few days tuning up with this reflex ball, I attacked that speed bag, no problem. The head band this is a bit strange, and the faster ball has a white rubber string, but all in all, a cool way to build fast eye and hand coordination
04/24/2020
Raphael
Singapore
In a few words , the best purchase I did.
I love boxing and my mayor problem is have a punching bag in my apartment, I don't want to make big noise to my neighbors... I find this and is incredible. More focus after practice often and conteo de ball. My accuracy is better plus I can use it any time I recommend to my clients in special my senior clients to improve their reflex and balance.
04/24/2020
Henry
Singapore
Really recommend this!
Love this set up! It's a little difficult to get used to at first, but as long as you start with the black ball, and start with small punches, (think tapping it with your fists) until you get the rhythm, you should progress quickly. After just under a week, I've progressed to the red ball. The headband adjusts well, it fits me without issue and I have a pretty large head. The material for the balls is soft and spongy so while it can come back and hit you, it's soft enough that it doesn't hurt.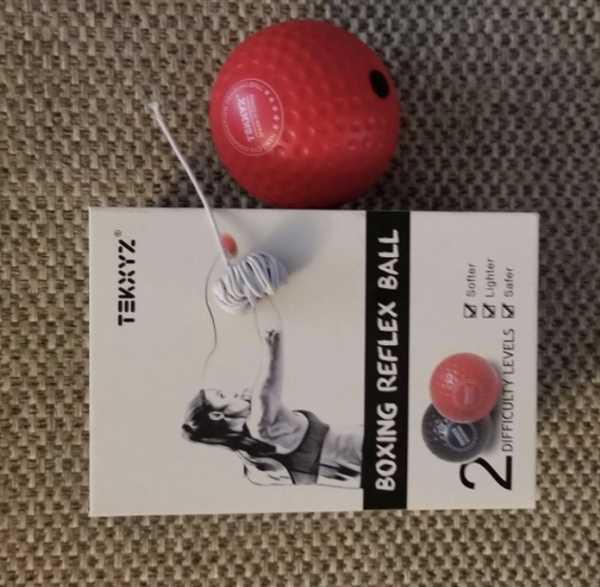 04/24/2020
Sandy
Singapore
Challenging fun for all!
My 14 yr old son has been boxing for about a year now and aside from daily gym training we started building a gym in the basement. I asked his trainer if these were any good/help and was told yes. I looked thru Amazon for ideas and this product seemed like the best bet based on reviews, different balls, etc When we received it we quickly opened it up and went to work! All you have to do is measure and cut the elastic, tie it to the headband and adjust and you're off to some fun exercise/training! Is it frustrating?? YES!! Is it fun? YES!!! It's addictive because you want to keep trying to see how many times you can continuously hit it( think of the old paddle with the ball attached, same concept except you're using your head AND hands!!) You can change out the balls once you've mastered the others, we've tried all three and the tennis ball is the hardest of them all, but we still attempt it now and then. It's for everyone, as it can be adjusted, it's challenging and at times frustrating, but in a good way, but most of all it's a great boxing tool for hand/eye coordination. A great addition to your training regimen.